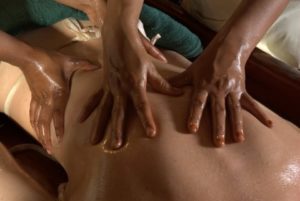 Winters are here and it will only getting colder by the day. We know that with the cold season almost catching up, there is going to be a slow but certain drop in the temperature. And as much as we all look forward to it after bearing enough of the scorching heat during summers, some of us also invariably dread the various thwarting ailments that the chilly season brings along. Joint pains and inflammation just happens to be one of them.
Joints Are Affected
During the winter season, there are many people who suffer from a nagging pain in the joints. The pain gets all the more severe for the arthritis patients. Although much relief is felt after warming-up of joints, by sitting under the sun or by applying oil. However, this simple home remedy of relieving joint pains with oil massage during winters can be approached with much more care, to increase its effectiveness.
Oil Massage For Joint Pains!
As and when you are suffering from joint pains, think oil massage. It is easy, relaxing, cost-effective and it prevents us from taking any of those dreaded medicines for joint relief. Oil massage categorically helps in soothing the ache in the joints, and also helps get rid of exhaustion. A massage therapy warms up our body and helps provide the necessary circulation to our muscles. Besides, it also keeps our skin sufficiently moisturized, hydrated and happy during winters.
Best Oils For Relieving Joint Pains with Oil Massage
Besides, there are some simple preventive measures to avoid getting affected by the chill. Listed below are some of the beneficial oils, herbal oils, essential oils and ointments that can be used for the purpose of massage therapy for relieving joint pains during winters. We also share with you few tips to make you feel even better this winter:
Ayurvedic oil massage – This is highly recommended. According to the Ayurveda principles, the effect of winters augments Vata Dosha or the air body humor in your body. Vata Dosha is responsible for flow and motion in the body. It is best to pacify the dosha, by applying Ayurvedic oils including Dhanwantharam thailam and Kottam Chukkadi thailam. These oils are made of natural herbs with medicinal properties. Regular use slowly and steadily provides needed relief.
Fish Oil – This is another effective remedy. The properties of fish oil are expected to reduce inflammation. It contains Omega-3 fatty acids. Fish oil supplements thus help reduce stiffness and joint pains.
Olive Oil – is good for relieving muscle tension and inflammation in the joints. A slightly warm extra virgin oil massage helps reduce pain and proves supportive relief for the arthritis patients.
Mustard oil massage for Knee Joints – is an easy home ready. It is recommended to heat mustard oil and add some garlic so as to apply on your knees. It helps in reducing inflammation, giving you immediate relief from pain.
Sandalwood Oil – An essential oil known for its therapeutic properties, the sandalwood oil act as incredible anti-inflammatory agent.
Eucalyptus Oil – A nice, gentle topical massage in circular motions using the Eucalyptus oil is also recommended for those suffering from rheumatoid arthritis, stiff muscles, nerve pain and similar issues. Its topical application offers a great deal of relief from pain and stress.
Coconut oil – Another tried and tested home massage therapy is still convincible. You just need to be careful in massaging you knee in the right circular motion with the warm bowl of coconut oil.
Aloe Vera Oil – An essential oil with the aloe vera extract is excellent to be used when in the need of a calming joint massage for pain and inflammation. It has various therapeutic properties that are capable of treating pain and stiffness in our back, neck, leg and shoulders, and also attempts to curb the onset of rheumatic pain.
Rosemary Oil – This essential oil derived from rosemary, one of the most potent herbs, is good for providing relief against muscle ache and swelling.
Watch Video: Yoga for Healthy Heart here.
About the Author: 
Dr Sonica Krishan is Author and Speaker in the areas of Healthy and Joyous Living through Ayurveda, Meditation, Yoga and other Contemplative practices. She is a leading Ayurveda Professional in India. She is also Health Writer, Columnist, Editor, Ayurveda Consultant and Holistic Healing Coach. Dr Sonica is open for National as well as International Collaborations with interested people / institutions in fields of Ayurveda, Meditation and Yoga.
 Dr Sonica Krishan's Books are available at
Amazon