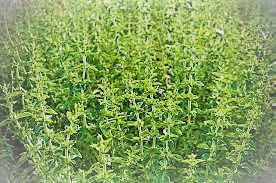 Also known as Thymus vulgaris, thyme is one of those many herbs that have long been in use owing to their culinary as well as curing properties. Owing its origin to the mint family, this particular herb not only lends a distinct taste, flavour and aroma to the food, but also works great as a preservative of sorts. People have long been using thyme plant as an herbal addition to their food as well as tea and pickles. This evergreen plant can also be seen blooming away beautifully in so many households because of ornamental reasons.
Natural Antiseptic, Antibacterial And Anti-fungal Properties!
However, the fact that it also has a rich nutrient and antioxidant profile is what makes Thyme all the more sought after in the area of natural healthcare and well-being, especially Ayurveda. Thyme contains as active substance known as Thymol, which is what makes it exhibit some significant health enhancing properties. Thymol works as an herbal health supplement and owing to its anti-microbial, anti-bacterial and fungicidal properties, and therefore manages to cure a variety of minor, everyday health conditions. While it could instantly kill bacteria and prevent fungal infections by blocking the growth of the fungi, right from the root; Thymol also complements and, in fact, improves the effect of other drugs we might be consuming for addressing related problems.
Mouthwash & Gargle For Oral Hygiene
Being an effective disinfectant and germ killer, thyme especially targets those much dreaded bacteria in our mouth, prevents their build up and eliminates the problem of bad breath. In fact, it becomes particularly effective at curing the problem of bad breath when combined with glycerin and alcohol. That is just the reason why it happens to be a common ingredient in a variety of oral mouthwashes, and even toothpastes for that matter.
In fact, we can make our own DIY herbal rinse at home using thyme, some alcohol, powdered sage, distilled water and some lemon juice. It gives us this cool, refreshing effect and tends to leaves behind a pleasant taste in our mouth. Though it is a little too bitter and pungent in taste, it tends to get better when diluted. Please note that diluting is also important since the extract, if used as it is, may lead to skin irritation and / or sensitization.
Good For Oral Healthcare
The topical application and gentle massage of thyme on our teeth and gums also works as an effective varnish and addresses the problem of tooth decay. By applying diluted thyme directly onto the affected area, we can even gain relief from tonsillitis and sore mouth. Its regular usage also helps prevent the formation of plaque, that sticky layer of bacteria which sits on our teeth and gums. The problem of loose teeth can also be addressed by doing a regular gargle using a mix of thyme root and some water. Gingivitis, gum disease and cavities are other oral problems Thymol is known to aptly address, owing much to its anti-fungal and antiseptic properties. For an improved performance, we can also use it in combination with other herbs. In fact, using some thyme extract along with that of turmeric or peppermint is another effective remedy which can help us cure swelling in our gums, which can otherwise become seriously painful and discomforting if ignored for long.
Amazing Healthcare Assistance
Besides helping us maintain oral health and hygiene in the most natural yet effective manner, this wonderful little herb also offers a whole lot of other health benefits, such as:
soothes sore throat,
lowers our cholesterol levels,
maintains healthy blood pressure levels,
prevents food poisoning while also preventing food contamination,
treats acne, scars and other skin conditions,
improves our natural immunity,
lifts up our mood,
treats cough and bronchitis,
provides relief during arthritis,
fights flatulence,
treats diarrhoea,
cures upset stomach
Where Is Thymol Found?
It is believed that people suffering from some kind of immunity conditions are especially prone to suffering from serious fungal infections, and that is where the topical application of Thymol oil is best recommended. Thymol is conveniently available in markets in the form of powder and pills. Thymol essential oil can also be used to cure oral infections. We can also chew on some freshly obtained thyme leaves, and that is known to be especially, although temporarily, effective in case of toothaches and bleeding gums. Therefore, if oral health and hygiene is on your agenda and you wish to go all natural, you can try Thymol essential oil.
Watch Video: Oil Pulling Ayurveda Techniques here 
About the Author:
Dr Sonica Krishan is Author and Speaker in the areas of Healthy and Joyous Living through Ayurveda, Meditation, Yoga and other Contemplative practices. She is a leading Ayurveda Professional in India. She is also Health Writer, Columnist, Editor, Ayurveda Consultant and Holistic Healing Coach. Dr Sonica is open for National as well as International Collaborations with interested people / institutions in fields of Ayurveda, Meditation and Yoga.
Dr Sonica Krishan's Books are available at Amazon
More Blogs: