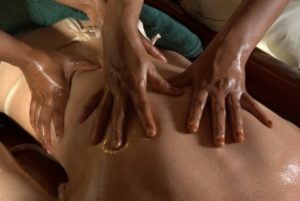 Principally a formulation made using a variety of medicinal herbs, a herb based pain-relief oil is known to be especially effective in controlling and curbing the pain and inflammation arising from joint problems. A great cure for the common joint problems, this herbal formulation goes a long way in providing a natural, long-term relief from the associated problems.
Why Do You Have Joint Pains?
Generally the main reason behind the occurrence of joint pains is constriction of vessels carrying blood to the joints. This, over a period of time, leads to a significant shortage in the supply of blood to the joints, and hence the stiffening. This, therefore, results in gradual swelling and pain in the affected area. Any discomfort felt in the knee joint – the weight bearing joint of our body, or in the shoulders – the most delicate and susceptible joints that we have, or in the lower back, at no matter which age, should not be overlooked or taken for granted, since it may lead to some serious, long term complications.
Herbal Joint Pain Relief Oil
The regular application of this Pain Relief Oil with herbal preparation, in fact, goes a long way in stimulating the blood circulation in the affected areas, thus allowing the stiff muscles and joints to loosen up a little and be able to move about. Although we may think that the same may also be achieved by consuming herbal formulations in the form of tablets or powder, but the fact remains that the oil has a tendency to get absorbed easily by our skin, thus reaching the affected area directly and effectively. It is naturally more capable of offering benefit to the affected areas, thanks to a quick capability of penetrating into the tissues, and preventing the pro-inflammation agents from causing any more damage.
What Oils Are Good For Arthritis?
Herbs such as Shallaki (Boswellia serrata), Haridra (Curcuma longa), Sonth (Zingiber officinales) and Til (Sesamum indicum) are some of the common ingredients of the herbal Pain Relief Oil. Known especially for their anti-inflammatory as well as analgesic properties, these natural herbs have long been touted by the Ayurveda system of medication for obtaining relief from various joints problems.
The Solution
Joint pains are eventually age-related problems which are not restricted to women alone. Even men tend to suffer from their own set of problems as age begins to catch up. And invariably, although over the counter medication may provide quick, short term relief from pain and allow us to move about, but this would not be the best cure and may also lead to side effects of its own. Hence, a recommendation called 'the Pain Relief Oil'. The extract of Shallaki or Boswellia is especially known to provide relief by particularly targeting the growth of inflammatory agents such as leukotrienes, TNF and cytokines etc. Likewise, the presence of an active compound known as Curcumin in Curcuma longa, also known as Haridra or Turmeric, is another extract that can be found in a host of anti-inflammatory Pain Relief Oils and ointments.
How to Use Pain Relief Oil?
As the Pain Relief Oil is fundamentally a purified blend of essential oils obtained from naturally occurring therapeutic herbs, this oil is recommended to be applied topically on the affected area about two times a day, followed by a smooth, gentle massage for the same to get absorbed. The best time for application is after the morning bath, and before you hit the bed. The massage helps in warming up the muscles so as to enable them in carrying out the day-to-day activities. Though, it is always a good idea to warm the oil a little, before application, especially in the cold climatic conditions. This helps in smooth application and also provides additional relief to the affected area, apart from giving the muscles an energy boost.
Safety Profile
Made from 100% natural ingredients, the application of herbal Pain Relief Oil is absolutely safe for the various skin types, and has no known side effects to offer. It has exhibited great results among people of all age groups and walks of life, suffering from joint pains and inflammation, especially that of knees, shoulders and lower back etc. At the same time, it is recommended to maintain an active, healthy overall lifestyle so as to avoid any future complications that may have the potential of leading up to arthritis. However, at the same time, you also need to give your body the amount of rest that is due, and never over-exert yourself. You also need to eat healthy diet, rest well, get the right amount of exercise and enjoy the bliss of good health!
Watch Video:  Ayurvedic Wonders Of Ghee (Clarified Butter)
About the Author:
Dr Sonica Krishan is Author and Speaker in the areas of Healthy and Joyous Living through Ayurveda, Meditation, Yoga and other Contemplative practices. She is a leading Ayurveda Professional in India. She is also Health Writer, Columnist, Editor, Ayurveda Consultant and Holistic Healing Coach. Dr Sonica is open for National as well as International Collaborations with interested people / institutions in fields of Ayurveda, Meditation and Yoga.
Dr Sonica Krishan's Books are available at Amazon 
Related Blogs:
Effective Healthcare Benefits of Sonth (Dried Ginger) for Joint Pains
Vitamin D – Essential For Calcium Management?