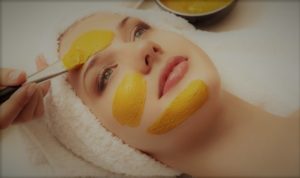 For someone who has read about India's ancient kingdoms and holds interest in their beauty and lifestyle regimen, ubtan is something that deserves a special mention. Considered a highly revered traditional herbal formulation, it basically refers to a convenient, home-made beauty pack prepared using some very natural ingredients such as gram flour, turmeric, chandan, milk/curd and rosewater, etc. History has it that the application of Ubtan, also known as lep, has long been practiced by royalties from ancient Indian kingdoms so as to achieve fairness and has delivered certain natural glow to their skin.
The Story Behind!
Having been formulated and devised by the raj-vaidyas and physicians of the Vedic era after thorough research, Ubtan now forms an important part of India's rich heritage. It is believed that the queens and princesses in the Vedic era made a widespread use of this particular mixture on special occasions such as weddings and festivals. This was often accompanied by the recitation of various vedic mantras. In fact, the use of ubtan formed an important step in what is till-date known as solah shringar – the sixteen different stages for a beautiful looking skin. Having observed the benefits, ubtan was then led it to its world- famous popularization. People obsessed with a beautiful skin even started using it on routine basis, and why not, since it was natural and all safe! Back then and even today, the preparation of ubtan also involves adding a fragrant substance to it. This is done in order to attract and invite divine frequencies from around the atmosphere, and as well to ward off the evil ones.
The Application Of Ubtan – A Ceremonious Affair
Thanks to the incredible beautification benefits offered by ubtan, it soon became a ritual as well as rite to be applied onto those who were getting married, so much so that it could be safely called a home spa of that era, and formed an important part of what is known as pre-wedding bridal-and-groom packages. Even today, ladies absolutely enjoy and look forward to getting together and preparing a special lepa for the to-be brides and grooms, applying the same generously on their bodies, while they sing traditional, happy folk songs. It is something which takes place at both, the bride's as well as the groom's side, although separately. Also known as haldi or battna ceremony, special invitations are sent to personal guests to attend this particularly vibrant and joyous ceremony. It is followed by a ritualistic bath on the day of the wedding, usually using holy water sourced specially from the nearby temple.
Beauty Coupled With Health Benefits
While the application helps detoxify and cleanse the skin, bathing afterwards is considered significant as it is believed to purify the body as well as the soul. Literally as well as symbolically, this ritual has been considered pious before the bride and groom make an entry into a whole new life. It is said to invite love, peace and prosperity into their lives, both as individuals, as well as  couple. Also, the colour yellow in the lepa is considered auspicious and has long been associated with happiness and new beginnings.
Healthcare Benefits
The use of ubtan has, over the centuries, turned out to become a classic homemade cosmetic product and a major beauty and skincare routine among both men as well as women. It cleanses and de-tans the skin, thus allowing it to glow and shine with radiance. The gram flour, or besan as is normally called, helps to exfoliate the skin from the inside, cleanse it and prevents the skin from getting dull. It also repairs and regenerates the skin cells, thus allowing the skin to heal right from the inside. Milk helps in getting the glow back on the skin, whereas chandan, on the other hand, helps to gently soothe the skin. The regular application of this lepa also prevents any signs of premature ageing on the skin, such as wrinkles, fine lines, dark circles etc.
When To Apply?
Ubtan is best used once a week and since it is being made using all natural ingredients, it is absolutely safe for all skin types. However, people can use the ingredients in varying amount or may be add few more of their choice, depending upon the needs of their skin.  It is one of those herbal products that is not only tried and tested, but also been an undying part of our culture and tradition. Even today, the use of ubtan among womenfolk of various communities, especially marwari, continues to be famous and looked reverently upon.
Watch Video: 8 Best Ayurveda Benefits of Turmeric for Health & Beauty here 
About the Author:
Dr Sonica Krishan is Author and Speaker in the areas of Healthy and Joyous Living through Ayurveda, Meditation, Yoga and other Contemplative practices. She is a leading Ayurveda Professional in India. She is also Health Writer, Columnist, Editor, Ayurveda Consultant and Holistic Healing Coach. Dr Sonica is open for National as well as International Collaborations with interested people / institutions in fields of Ayurveda, Meditation and Yoga.
Dr Sonica Krishan's Books are available at Amazon
More Blogs:
TOP 6 HERBS FOR GLOWING AND BEAUTIFUL SKIN 
BEST AYURVEDA RECOMMENDATIONS FOR VATA, PITTA, KAPHA SKIN TYPES