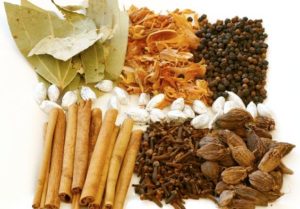 Simple Spices and Condiments found on your kitchen shelves have been proclaimed medicinal herbs in Ayurveda texts. These spices and condiments include a variety of dried herbs, which are used as everyday food seasoning and flavoring agents. Some of these, such as turmeric, asafoetida, thyme, cumin, coriander etc. are known to be health-promoting and ensure proper digestion and assimilation of food. These spices are easy to use, have no side effects, and put our bodies in harmony with nature. Here are ten common spices that provide medicinal benefits to augment wellness.
Watch Video:  Ayurvedic Wonders Of Ghee (Clarified Butter)
About the Author:
Dr Sonica Krishan is Author and Speaker in the areas of Healthy and Joyous Living through Ayurveda, Meditation, Yoga and other Contemplative practices. She is a leading Ayurveda Professional in India. She is also Health Writer, Columnist, Editor, Ayurveda Consultant and Holistic Healing Coach. Dr Sonica is open for National as well as International Collaborations with interested people / institutions in fields of Ayurveda, Meditation and Yoga.
Dr Sonica Krishan's Books are available at Amazon 
Related Blogs:
Effective Healthcare Benefits of Sonth (Dried Ginger) for Joint Pains
Vitamin D – Essential For Calcium Management?